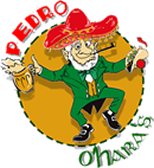 Restaurants
PERMANENTLY CLOSED


Brunswick, Maine 04011


(207) 373-1300 www.pedrooharas.com




2021 EXTENSION: PERMANENTLY CLOSED
It's with a heavy heart that we say our days are behind us! We survived the recession, the closing of NASB, when we had 4 deep at Friday happy hour, the flood of 2013! The last couple of years have been tough. Many choices in a small town. The pie kept getting smaller.
Fast forward to today, something called Corona brings us down! We sold so many of them through the years!
We lost St Patrick's Day( our biggest day of the year), Cinco de Mayo( our 2nd biggest day of the year, Bowdoin senior nights, Bowdoin graduation weekend etc.
The art of takeout is difficult. Mexican food does not travel well. We do not have a deck. We do not own a parking lot to put a tent on. Our sidewalk space would hold one table.
The current county/State regulations makes it impossible to continue.
From our hearts to yours thank you for all the patronage over the years! Some incredible employees have graced this old basement! We enjoyed serving you!
Go well friends!
Location: Coastal East
|
Cuisine: Unassigned, Mexican